Why drive the interstate when you can experience the Hemp Highway?
Hemp, Binding Our History To Our Future
In Kentucky? Planning on passing through soon? Slow down, turn off the interstate and take in the Hemp Highway of Kentucky. Relax as you cruise through lush bluegrass countryside. The Hemp Highway of Kentucky offers a unique diversion that is self-directed and enjoyable on many different levels.
The mission of the Hemp Highway of Kentucky is to illustrate how hemp truly is the fiber that binds together the history and future of Kentucky. The Hemp Highway of Kentucky weaves through names, places and events that are seminal to both the Kentucky and national historical narrative. The Hemp Highway also stops to introduce some contemporary pioneers on today's hemp frontier.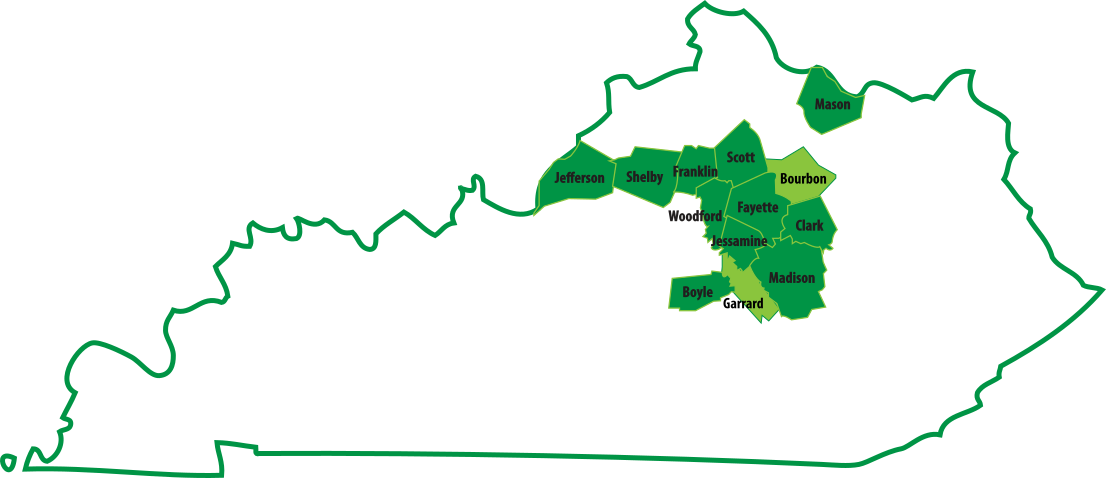 Scroll over the counties on the map. The "dark green counties" on the map of Kentucky are links that will help you find the historical markers that reference the hemp industry. (Please note that several of these markers have been removed or stolen) The "light green counties" also have hemp related history or attractions but not an "official" roadside historical marker. All links include different sites and attractions that are a part of the hemp story in Kentucky. However, these markers and sites mainly entry points into the story. Our goal at the Hemp Highway of Kentucky is to connect those dots to create a clearer picture of how the hemp industry influenced the earliest days of Commonwealth through modern days. For example, how being a hemp farmer and industrialist likely influenced Senator Henry Clay's most noted accomplishments. Or how the first millionaire west of the Allegheny Mountains, John Wesley Hunt, started several prosperous hemp processing businesses before moving into the more lucrative world of finance.
Each county page contains (or will contain) short essays designed to help provide a better understanding of the role that hemp played in the settling of the frontier and development of the Commonwealth. We look to convert these essays into an audio tour that will be available for download from this website.